Here are 10 Cars That So seeded in Year 2011
Throughout 2010 and then, or even before a number of car manufacturers has launched a brand-new car concept that will be their production and marketed in 2011. A number of advanced features, attractive design, and a variety of engine options they offer. Only, amid the increasing competition of course, not all cars will occupy the top position in sales. As a result, not least among producers that are delaying the launch as one of the few marketing strategies that executable.
So who will launch the car manufacturer in 2011 this car? What car expected to hit the world automotive market? Here are 10 cars featured will be a mainstay throughout 2011 based on records collected by the page Autoguide.com, Saturday (1 / 1):

1. Toyota FT-86
Collaboration between the sports car Toyota Motors Corporation (Toyota) with Fuji Heavy Industries, car manufacturer Subaru, mentioned would be launched on the mat New York Auto Show 2011 which will be held April 2011. Hachiroku nicknamed this car uses the concept of sporty with seats 2 2 and adopted the style RWD Corolla AE86.
Although the FT-86 is claimed to be environmentally friendly cars, but still give priority to speed have been the benefits of Toyota and Subaru. Sport sedan is equipped with 2,000 cc four-cylinder engine that ejects power to 200 horsepower. Power of the transmitted to wheels through a six-speed manual transmission. The car's rear wheel using the brake Advics.
2. New Chevrolet Camaro Z28
This car will be equipped with 6200 cc V8 engine that powered 426-550 horsepower. During this time, the machine used by the Cadillac CTS-V which is also manufactured by General Motors, Chevrolet's parent company. Camaro Z28 latest generation is expected to become one of the few backbone Chevrolet sales in 2011.
3. Hyundai Veloster
Veloster newest generation was developed with FS code using the platform of the Hyundai Cee'd front wheel. Using a standard Type 1 600 cc direct-injection engine that powered 138 horsepower. Another type 2,500 cc engine powered 205 horsepower. Coupe car made by Hyundai Motors Corporation is using a dual-clutch transmission with six levels of acceleration. South Korean manufacturer's claim that thanks to newer transmission fuel consumption could save 5-7 persen.Hyundai mention products that would compete with the Renault Megane and Volkswagen Scirocco.
4. BMW M5
BMW M5 Sedan The new version will use 4.400cc V8 engine and uses two turbochargers. The machine is claimed capable of generating power up to 555-578 horsepower and 530 lb torque. Acceleration from rest to a speed of 100 kilometers per hour (kpj) was achieved in just 4.5 seconds.
The car is capable of racing up to 248 devices equipped kpj that dual clutch transmissions seven levels of acceleration. The plan super sedan will be launched on the mat Paris Auto Show 2011 in October.
5. Volkswagen New Midsize Sedan
Volkswagen (VW) said the latest sedan besutannya that use 30-40 percent of VW Jetta parts. The manufacturer is confident presence sedan will be able to compete with the Toyota Camry, Nissan Altima and Honda Accord. About the price, VW claims will membanderolnya in the range of U.S. $ 20 thousand or approximately USD 180 million with a sales target of 150 thousand units per year.
Since early October 2010, VW has made the production process of the medium sedan at its plant located in Chattanooga, Tennessee, United States. Previously, VW has poured funds no less than U.S. $ 1 million or approximately USD 9 billion for plant expansion. The plan, the car was launched in the mat North America International Auto Show (NAIAS) in 2011, 10 January next.
6. Porsche 918 Spyder
The car will be produced at the Porsche factory in Zuffenhausen is priced 500,000 euros, or approximately USD 5.8 billion for the European region. The model was equipped with a V8 engine and electric motor. Power generated second combined power source is capable of spraying power 500 horsepower.
Porsche claims this car emissions level of only 70 grams per kilometer. Classified as super speed, which is 320 kilometers per hour (kpj). While acceleration from rest to a speed of 100 kpj taken in just 3.2 seconds
7. Aventador Lamborghini LP700-4
This car carrying the engine 6500 cc V12 engine capable of producing power of 700 horsepower and torque of 680 Newton meters (Nm). The plan, Lamborghini launch it in the mat Geneva Motor Show 2011 which took place next March.
Aventador LP700-4 is claimed to sped up to 347 kilometers per hour (kpj). Acceleration from rest to a speed of 100 kpj achieved in 2.9 seconds.

8. Mercedes-Benz C-Class Coupe 2012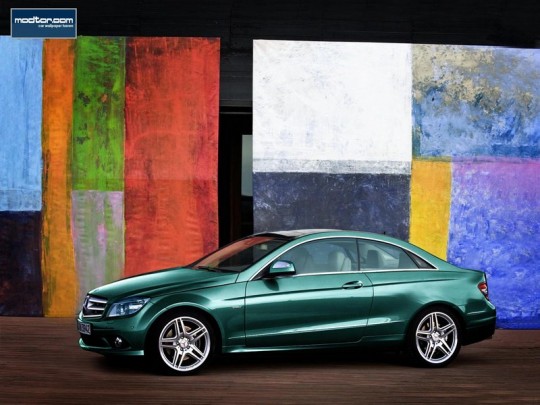 Cars made by Mercedes-Benz coupe will be launched on the mat North America International Auto Show (NAIAS) 2011 in Detroit in January. Offered in several variants. Type standard 1,800 cc four-cylinder engine a turbocharger. The machine is claimed capable of producing 201 horsepower power. Another type of power-powered 302.
In addition, Mercedes is also offered in variant C63 AMG Black Series. This variant consists of two types, namely model 4700 cc engine with twin turbo V8 that produces 430 horsepower power. The second type is, the model 5500 cc V8 engine that produces 563 horsepower power.
9. Audi Coupe Quattro

Audi Quattro was first introduced in the mat Paris Auto Show, October 2010. Cars cross coupe uses a 2,500 cc V8 engine and dual clutch transmissions from the RS5.
Five-cylinder turbocharged engine is capable of spraying power 408 horsepower, and torque of 354 Newton meters (Nm). Audi working with Volkswagen AG subsidiary, Italdesign Giugiaro in doing this car.
10. Honda Civic 2012
Honda Motors is reportedly preparing to finalize the launch of the latest generation Honda Civic hatchback. Car engine began to be marketed in 2011 was not changed compared to previous generations.
Honda claimed to equip it with some newer features in both the exterior and interior of the car. Front grille that uses a honeycomb design, wrapping sheets Alcantra in interior leather, alloy rims of the GT version of the Civic, are among the new features.
This hatchback car manufactured in this type of SE and Si. Both still use the 1400 cc engine and 1800 cc engine. Two types of first use are 16 inch rims. The 1,800 cc engine type using size 17 inches. Engine 1800 cc i-VTEC is called capable of generating power up to 140 horsepower. Fuel consumption of only 6.7 liters per 100 kilometers and dump gas emissions of no more than 155 grams per kilometer.
Honda did not mention the maximum speed that can be enfolded car. However, the speed acceleration from rest to a speed of 100 kilometers per hour claimed in just 8.9 seconds.
Here are 10 Cars That So seeded in Year 2011
Reviewed by
Nona Lia
on
8:12 AM
Rating: