Google Kick Against Microsoftt
Perhaps this is the most fierce battles in the world of technology lately. Google continues to attack intensively in almost all major Microsoft business lines. Month - this past month with both of them attack each other directly leading to the main business rival.
Look at Google's recently announced that they will soon launch a new operating system called Google Chrome and Microsoft's OS was not to be outdone by also directly attack to Google's main business lines with to launch Search Engine Bing. Moreover, Microsoft has also managed to attract Yahoo who also is one of Google's main enemy.
How does the end of this fight, certainly very interesting to see. Here are 10 ways that Google did to destroy Microsoft
1. Operating System
Google presents Chrome the OS that will soon be released in 2010 to challenge Microsoft's own Windows where Windows 7 has been prepared which will soon be launching sometime in October this year.
Here Microsoft is obviously much more superior than Google where the Windows to date have mastered at least 90% of the operating system market. But with labels Freeware, OS Chromo believed would be a serious challenge to Windows.
2. Search
Google search over 65% according to comScore search market in America. To compete with Google Search, Microsoft recently released new search engine with the name Bing.
With poured funds for advertising for $ 80 million, is now Microsoft's Market Share in U.S. Rise from 8% to 8.4%. Microsoft CEO Steve Ballmer said that they would supply the funds of between 5% -10% of Microsoft's operating income over the next 5 years in this market. This means about $ 10 billion per year. And the newly established cooperation - recently with Yahoo, is expected to raise the position of Microsoft's market share to nearly 30%.
3. Email
Google finally released a beta version in GMail. 146 million people use it every month according to ComScore. Google is also trying to attract corporate customers with the service through Google Apps.
While Microsoft's Hotmail has been used 343 million people worldwide according to comScore.
4. Office Application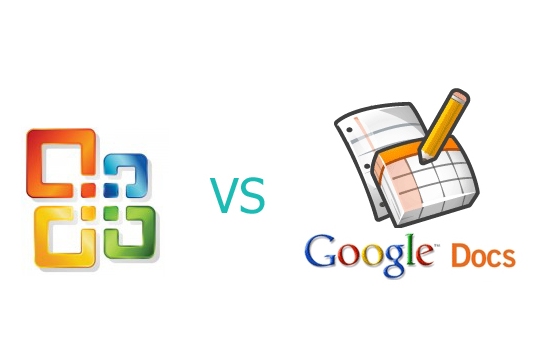 Google Docs that can be used free of charge, consisting of word processing, spreadsheets, and presentations are expected to be able to compete with Microsoft's strength in this area.
Microsoft Office which consists of Word, Excel spreadsheets, PowerPoint presentations, Outlook, etc.., Seems still too powerful for Google Docs, let alone Microsoft Office 2010 will soon release next year. And also products such as Exchange server.
5. Social Networking
In 2006, Google agreed to pay MySpace $ 900 million for 3 years for search and advertising agreement. Google also has OpenSocial, a social network intended to weaken the grip up.
In 2007, Microsoft bought 1.6% stake in Facebook worth $ 240 million. As part of this agreement, Microsoft also agreed to pay up $ 150 million for rights to the ad.
Facebook has 250 million active users compared to MySpace which only 130 million users worldwide. While OpenSocial is still too small to be taken into account here.
6. Portal and Brand Advertising
The only belong to Google in this area is YouTube. Estimated revenue from YouTube ads is about $ 500 million. ComScore said that YouTube is estimated to have about 92 million unique visitors in the U.S. last June.
Microsoft has its MSN Web portal that is number 3 in the world after Yahoo and AOL. And an estimated 93 million unique visitors in the United States to visit MSN in June last.
According to TNS Media Intelligence in the year 2008 the advertisers had spent funds amounting to more than $ 4 billion. And they prefer to use Web Video, so MSN has added a premium service video content on its website, but still, YouTube is still the leader.
7. Web Browsers
Google launched Chrome in 2008. And only in about 1 year since its release, according to Net Applications, Chrome has gained 2% market share in this area.
Microsoft with its Internet Explorer, is estimated to control about 66% market share. Microsoft is still too dominant in this area and Chrome is expected to take a long time to get his rival Microsoft's Internet Explorer, even Firefox which now has 20% market share.
8. Mobile OS
Google released Android in 2008 and who are ready to challenge Windows Mobile. Next year some Companies are ready to immerse Mobile Andriod on their SmartPhone. But still quite difficult for Google with its Android to rival the power of Windows Mobile, let alone Microsoft has some amazing tools that are embedded on the Xbox and some entertainment products. (It should be noted, this article was made around the beginning of 2010, now has begun to dominate the market of Android mobile OS is windows mobile version 7 seems a little less enthused by the market)
9. Ad Serving, Ad Exchange
Google mendapakan when it bought DoubleClick DART worth $ 3.1 trillion in 2007. DART is a standard server for premium ads to publishers (publisher).
Microsoft bought Atlas Systems worth $ 6 trillion in 2007 as well.
10. Ad Networks
According to ComScore, Google's AdSense for Content has reached 163 million unique visitors in June. That means 84% of the total population of Internet users in America.
The same month, there were 146 million worldwide unique visitors who visit the Microsoft Media Network.
It is estimated that in the 2nd quarter of 2009 Google's AdSense has achieved revenues of about $ 1.68 billion. Here, Google is still the largest.
So a quick review of the IT world pertaruangan these two giants, who will come out as the winner, let's wait time.
Google Kick Against Microsoftt
Reviewed by
Nona Lia
on
6:38 PM
Rating: